Sono le 2:56  (UTC ) del 21 Luglio 1969 quando Neil Armstrong appoggia il piede sull'ultimo scalino del modulo Eagle della missione Apollo 11.
"That's one small step for (a) man, one giant leap for mankind"
"Questo è un piccolo passo per un uomo, ma un grande salto per l'umonità"
Dieci anni dopo, nell'ottobre 1979, "tre biondi vecchetti",  i Police (Sting, Steward Copeland e Andy Summers) pubblicano il loro secondo album "Reggata de Blanc" : la sesta traccia dell'album è "Walking on the moon".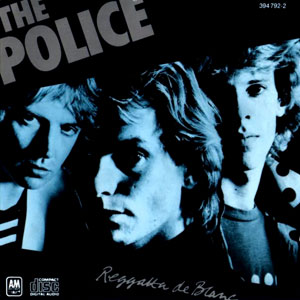 Si tratta di un album destinato a fare storia perchè conferma il tratto distintivo della band appena nata (1977 ) : una contaminazione tutta particolare tra il ritmo reggae sincopato e il rock.
Il titolo pare voglia significare infatti "reggae per i bianchi";  il miracolo lo fa il batterista Stewart Copeland in grado di conferire un sound preciso e ben distinguibile alla band; il resto lo fanno la calda e suadente voce di Sting (all'anagrafe Gordon Matthew Thomas Sumner ) e le armonie di Andy Summers.
L'album, grazie al successo dei singoli  "Messagge in a bottle" e "Walking on the moon" raggiunge il primo posto in Regno Unito, Francia, Australia ed Olanda consacrando la band a emblema dell'era new wave . Rolling Stone lo posiziona 369° posto dei 500 migliori album di tutti i tempi.
Il secondo singolo estratto dall'album, "Walking on the moon", nasce in maniera bizzarra; ecco il racconto di Sting :
"Ero ubriaco in una camera d'albergo a Monaco di Baviera, crollato sul letto in preda ai fumi dell'alcool quando mi è venuto in mente questo riff. Mi sono alzato e messo a camminare per la stanza cantando: "Walking round the room, walking round the room (camminando per la stanza)". Questo era tutto. Il mattino seguente mi sono ricordato cosa era successo e ho appuntato il riff. Ma "Walking round the room" era un titolo stupido, così ne ho pensato uno ancora più stupido che era "Walking on the moon". »
In particolare, nella sua autobiografia Sting fa riferimento alla sua ex-ragazza:
"Deborah Anderson era la mia prima vera ragazza.. In quei primi periodi, tornare indietro da casa sua sarebbe successivamente diventato una canzone, poiché essere innamorati è come essere esenti dalla forza di gravità."
Sting avrà certamente visto i filmati realizzati dagli astronauti della NASA a passeggio sulla Luna: uomini (n.b. solo uomini perchè nessuna donna ci è mai andata) imbacuccati e lenti, goffi e leggiadri al contempo.
Goffi per l'ingobranza della tuta e del casco resi necessari dall'assenza di atmosfera: senza la tuta infatti  la pressione interna del corpo, molto maggiore di quella esterna, farebbe gonfiare ogni parte del corpo con conseguenze deleterie per il fisico (pensate solo a cosa potrebbe succedere agli occhi…) . A corollario, va detto che senza casco, sempre per l'assenza di atmosfera, gli astronauti non potrebbero ovviamente respirare.
Leggiadri perchè la gravità lunare (la gravità dipende unicamente dalla massa e dal raggio del corpo sul quale camminiamo: maggiore è la massa, maggiore è la gravità ma maggiore è il raggio, minore è al gravità) è un sesto di quella terrestre e per tanto con una piccola spinta "Giant steps are what you take ( "Passi giganti sono quelli che hai fatto" )… I hope my legs don't break (spero che le mie gambe non si rompano)."
In realtà Neil Armstrong dichiara in diretta con Mc Candless che camminare sulla Luna è addirittura più facile di quanto non sia nelle simulazioni sulla Terra:
"There seems to be no difficulty in moving around – as we suspected. It's even perhaps easier than the simulations of one-sixth g that we performed in the various simulations on the ground. It's absolutely no trouble to walk around."
Tra il 1969 e il 1972 altri 11 uomini camminano sul suolo lunare.
Tornando al 1979, i tre ossigenati membri della band (avevano appena concluso una campagna pubblicitaria per uno shampoo) girano il video di "Walking on the moon" il 23 ottobre 1979 al Kennedy Space Center, struttura di lancio della NASA che si trova a Cape Canaveral (Florida, USA), struttura dalla quale sono partite tutte le missioni Apollo.
Mentre Sting e Summers suonano la chitarra in mezzo ad astrononavi, Stewart Copeland tamburella allegramente su un Saturn V (ovviamente una riproduzione), il razzo che ha messo in orbita l'Apollo11 e finiscono tutti insieme a giocare a fare gli astronauti…
WALKING ON THE MOON
Giant steps are what you take
Walking on the moon
I hope my legs don't break
Walking on the moon
We could walk forever
Walking on the moon
We could live together
Walking on, walking on the moonWalking back from your house
Walking on the moon
Walking back from your house
Walking on the moon
Feet they hardly touch the ground
Walking on the moon
My feet don't hardly make no sound
Walking on, walking on the moonSome may say
I'm wishing my days away
No way
And if it's the price I pay
Some say
Tomorrow's another day
You stay
I may as well playGiant steps are what you take
Walking on the moon
I hope my legs don't break
Walking on the moon
We could walk forever
Walking on the moon
We could be together
Walking on, walking on the moonSome may say
I'm wishing my days away
No way
And if it's the price I pay
Some say
Tomorrow's another day
You stay
I may as well playKeep it up, keep it up
CAMMINANDO SULLA LUNA
Passi da gigante sono quelli che hai fatto
Camminando sulla luna
Spero che le mie gambe non si rompano
Camminando sulla luna
Possiamo camminare per sempre
Camminando sulla luna
Possiamo vivere per sempre
Camminando su, camminando sulla lunaRitornando a piedi da casa tua
Camminando sulla luna
Ritornando a piedi da casa tua
Camminando sulla luna
I piedi a stento toccano il suolo
Camminando sulla luna
I miei piedi facilmente on fanno rumore
Camminando sulla lunaQualcuno può dire
Io mi auguro di vivere a lungo
Affatto
E se questo è il prezzo che devo pagare
Qualcuno si ferma
Domani è un altro giorno
Tu dici
Posso giocare così benePassi da gigante sono quelli che hai fatto
Camminando sulla luna
Spero che le mie gambe non si rompano
Camminando sulla luna
Possiamo camminare per sempre
Camminando sulla luna
Possiamo vivere per sempre
Camminando su, camminando sulla lunaQualcuno può dire
Io mi auguro di vivere a lungo
Affatto
E se questo è il prezzo che devo pagare
Qualcuno si ferma
Domani è un altro giorno
Tu dici
Posso giocare così bene
Altri testi su: http://www.angolotesti.it/P/testi_canzoni_police_332/testo_canzone_walking_on_the_moon_19689.html