E'  il 1985 quando il bassista John Leven suggerisce a Joey Tempest di incidere un singolo con un riff registrato tra l '81 e l '82.
Quando il gruppo sente la demo i pareri sono discordanti ma sono tutti d'accordo sul fatto di includere il singolo nell'album ed usarlo esclusivamente come apertura dei concerti.
Così ricorda Joey Tempest:
"It was over six minutes long and was never meant to be a hit or anything like that. It was meant to be an opening for the "live" show. We were putting out our third album and we wanted a really "grand" opening for the show. So, I had that "riff" tucked away in a drawer since my college years and I took it out, found a tempo for it, wrote lyrics and it turned out to be a great opening for that album and for the show as well."
Ma la compagnia Epic Records è assolutamente convinta che  quello debba essere il singolo di apertura dell'album.
Il risultato sarà che  The final countdown arriva al numero  1 delle chart in 27 stati vendendo quasi 12 milioni di copie; in Italia il singolo è rimasto al numero 1 per 9 settimane consecutive.
L'inizio della canzone con il famosissimo conto alla rovescia e il tema del viaggio spaziale ricordano Space Oddity di David Bowie alla quale Joey Tempest dichiara apertamente di essersi ispirato.
E così ritroviamo  il conto alla rovescia come emblema della partenza verso nuovi mondi e scopriamo cha ancora negli anni '80, sulla scia della conquista della Luna e sull'onda della paura per la guerra fredda, il viaggio interplanetario rappresenta uno scenario futuribile… [*]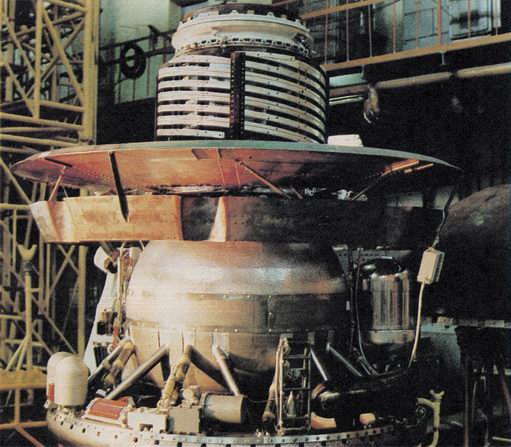 E' curioso notare il riferimento a Venere che nei primi anni '80 è stato protagonista incontrastato delle esporazione spaziale; se Marte infatti dopo il successo delle sonde americane
Viking
(1975-76) è stato dimenticato fino al 1988 dall'Unione Sovietica (programma
Phobos
) e fino al 1996 dalla NASA (
Mars Globas Surveyor
) , tra il 1980 e il 1986 attorno a Venere hanno orbitato ben 6 sonde russe ( 4 del programma
Venera
e 2 del programma
Vega
) ,  quattro delle quali hanno condotto atterraggi di successo.
We're leaving together,
But still it's farewell
And maybe we'll come back,
To earth, who can tell ?
I guess there is no one to blame
We're leaving ground
Will things ever be the same again?
It's the final countdown…
We're heading for Venus and still we stand tall
Cause maybe they've seen us and welcome us all
With so many light years to go and things to be found
I'm sure that we'll all miss her so
IL CONTO ALLA ROVESCA FINALE
Stiamo partendo insieme
ma è sempre un addio
e forse torneremo sulla Terra
chi può dirlo?
penso che non si possa incolpare nessuno
stiamo lasciando il terreno
le cose potranno mai
essere di nuovo le stesse?
è il conto alla rovescia finale…
Ci stiamo dirigendo a Venere
e ancora stiamo in piedi
perchè forse ci hanno visto
e ci hanno dato il benvenuto
con così tanti anni luce da percorrere
e cose da trovare
sono sicuro che ci mancherà molto…
[*] anche se lo stesso Bowie nel singolo Ashes to ashes, già nel 1980, abbandonerà il Major Tom a se stesso tornando ad una visione decisamente disincantata e disillusa dello spazio e del viaggio interplanetario. Ma Bowie, si sa, è un'altra storia…